Two weeks ago today, my husband and I drove to Palm Springs from San Francisco for a golf vacation. We were following the sun to escape the rainy Bay Area. It was "heads" for Phoenix or "tails" for Palm Springs. The California desert won the toss, and so we set out on our journey. What began as a warm and relaxing trip ended with my husband having emergency surgery at Eisenhower Medical Center (EMC) in Rancho Mirage.
In my thirteen-plus years as a manners consultant, hospital etiquette is one subject I had never given much thought to, as most of my clients are interested in the basics: dining, telephone, or e-mail etiquette. What then, is the proper etiquette when you are visiting a patient? Are cell phones allowed? Is food an accepted gift? Is it ok to "tip" nurses and volunteers for good care? All of these questions and more arose as we played the waiting game to see if John's conditioned worsened. It did, and our trip to the ER ended with him in the OR some four days later.
I LIKE IKE
For most people, a hospital experience is generally not positive. Unless you are celebrating the birth of a child, hospitals are not happy places. That is what I believed, anyway, until I met the staff and volunteers at EMC. The minute we walked through the ER door, we were greeted by friendly staff, even though they were dealing with life-threatening situations. In an environment where needles, tubes, and rubber gloves reign, I felt oddly at home. Complimentary valet parking greeted us at the front door. The waiting room was like a hotel lobby, and strong coffee was always nearby. Purell hand sanitizer became my lotion of choice. Martin Yan of Yan Can Cook fame was even doing a food demonstration in the cafeteria. Maybe we weren't really in a hospital? Was this a dream?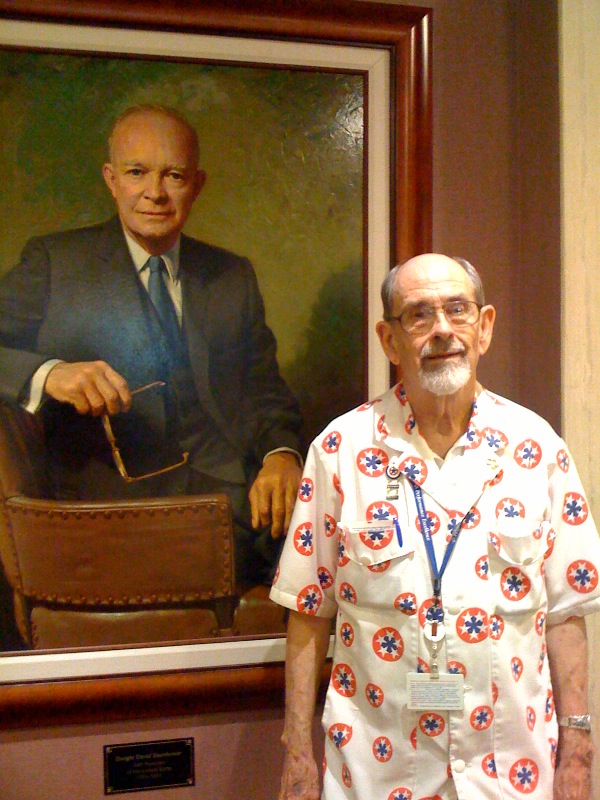 Five Star Volunteer "Dwight" with the lobby portrait of Dwight D. Eisenhower, the hospital's namesake.
I love uniforms, and found it absolutely fitting that all hospital volunteers wore red, white, and blue smocks—with you guessed it—five stars in honor of our thirty-fourth president, five-star Army general Dwight D. Eisenhower, the hospital's namesake. (The land for the hospital was donated by Bob Hope, and the Eisenhower's were part-time residents in the desert). Even my husband's anesthesiologist had an I LIKE IKE button from the 1952 Republican Convention pinned to his scrubs. Impressive. They may take this military thing very seriously, but I'll say this: We didn't need to ask for help, because those five stars were happily greeting us at every turn.
Do's and Don'ts for Visitors
• Never sit on a patient's bed. Chairs are provided for visitors. However, if they are occupied, then stand.
• Don't wear perfumes of any kind.
• A hospital is not a hotel. Call ahead to make sure the patient is up to visitors, and don't be offended if the answer is no.
• If you need to use your cell phone, do so in the lobby, not in the patient's room or the hallway corridors.
• Ask the nursing staff ahead of time if it's okay to bring in food. The patient may be on a liquid diet and it would be cruel to have him/her smell chocolate chip cookies. Plants, books or magazines are safe alternatives.
• Never overstay your welcome. Less is more when it comes to visiting hours.
• Try to have a family member or a trusted friend with the patient when the doctor is present. It's nice to have someone else "hear" what is being said. Elect one family member to speak or decide for the patient if decisions need to be made. This is especially useful when there are many siblings in the family.
• What about the role of young children visiting ill family members or other children? Hospitals have rules about age limits, so call ahead of time.
• If the nurse or doctor comes in, leave the room to give them privacy when a patient is conscious and/or alert. Otherwise, it would be helpful to have one elected family member in the room with the patient to assist MDs or other care providers.
• Be careful when making physical contact with a patient. Find out if it's okay to touch him/her. Then take care when hugging or kissing the patient, especially if he/she has wires or tubes inserted. Comforting a patient by holding hands is almost always a good idea, unless the hands are somehow damaged.
A Senior and Celebrity Haven
My last visit to Palm Springs was in college, twenty-five years ago. I don't recall much from spring break except sun and fun. Today, this place is part Hollywood, part Vegas. At the intersections, street signs have names like Hope, Sinatra, Ford, and Shore. The desert is also home to the Betty Ford Center and the Annenberg Estate. As I said, it's a bit of Hollywood but with a country club twist, where golf is the favorite pastime.
In Rancho Mirage, the median age is 61, so—luckily for us—great health care rules the town. Thank you to all our "Nurse Bettys"—Cathie, Ana, Christie, Anita, Amanda x2, Olga, Roxanne, and Eugenia—and of course our surgeon, Dr. Nguyen, a Vietnamese Dr. Oz: spunky, hip, full of energy, and smart as a whip!
Our spring holiday may have been interrupted, but it was not without its humorous side. Even though life revolved around Room 467, all 180 feet of it, I still giggle when I think about eight incidents that took place, one for every day of John's stay in the hospital:
1. Shopping at an all-night Walmart for any and all tabloid magazines. My personal favorite: celebrities without makeup.
2. My husband (high as a kite from painkillers) liked everything I bought for him at the outlet mall. This was a first.
3. Me being mistaken for a senior and given the senior discount while buying coffee in the cafeteria. No one under fifty buys coffee?
4. Sharing ice chips with my spouse (seriously) was the highlight of my day. In separate cups, of course.
5. Getting through the day by reading Kitty Kelley's book on Oprah. It worked.
6. Finding that everything my husband said was funny, even though we were together twelve hours a day. I cannot explain this one.
7. Being "busted" by a weekend nurse for talking on my cell phone in the children's playroom. There were no kids in the playroom.
8. Writing this blog from a purple pleather La-Z-Boy recliner in our room.
Home at Last
On departure, our friend Larry from San Francisco and Palm Springs asked if we'd ever be coming back. My husband growled an emphatic no. I, on the other hand, had mixed feelings. The days were long and the atmosphere sterile, but desert hospitality took me by surprise. I was shown kindnesses by complete strangers, from the hotel staff (thanks, Bruno!) to the EMC staff, volunteers, and other visitors. My daily drive to and from the hospital offered spectacular snow-topped mountain views. Our friend Tom arranged air transportation home for us, and our new friend Richard flew in from San Francisco just to drive my car home!
All in all, I was able to make the best out of a not-so-great situation, and we were both rewarded in spades: a clean bill of health for John, coupled with oodles of prayers and love, calls, and e-mails from countless family and friends.
http://37.60.249.202/~expertet/wp-content/uploads/about-lisa.jpg Lisa Mirza Grotts is a recognized etiquette expert, an on-air contributor, and the author of A Traveler's Passport to Etiquette. She is a former director of protocol for the city and county of San Francisco and the founder and CEO of The AML Group (Lisagrotts.com), certified etiquette and protocol consultants. Her clients range from Stanford Hospital to Cornell University and Levi Strauss. She has been quoted by Condé Nast Traveler, InStyle magazine, the Los Angeles Times, and the New York Times. To learn more about Lisa, follow her on Twitter.com/LisaGrotts and Facebook.com/LisaGrotts
Follow Lisa Mirza Grotts on Twitter.