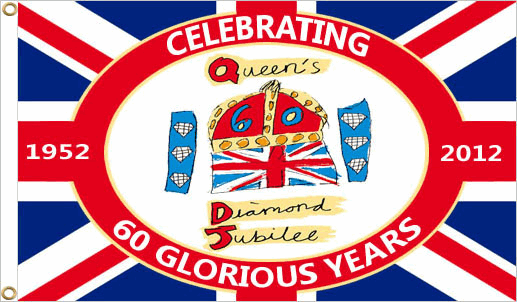 It's hard to believe that Queen Elizabeth II ascended to the throne sixty years ago this February. In the words of the late historian John Grigg, "Elizabeth II deserves praise for having been a bastion of stability in an age of social and moral flux." This is an understatement! Anyone who can persevere for sixty years in the same job deserves praise beyond measure.
It's been a big couple of years for the United Kingdom: First, the wedding of Katherine Middleton to Prince William in April 2011, and then the queen's Diamond Jubilee, which was celebrated with special events on Jubilee Weekend, June 2 to 5. A diamond jubilee marks the sixtieth year of a marriage or a monarch's reign. This was only the second one in the history of the United Kingdom; the first was Queen Victoria's in 1897. The celebrations included a pageant on the Thames, a concert at Buckingham Palace, and a service of thanksgiving at St. Paul's Cathedral.
Charlotte Mailliard Shultz, the chief of protocol and director of special events for the city and county of San Francisco, knows a bit about throwing parties herself. She was responsible for planning the queen's visit to San Francisco in 1983, and has greeted many other members of the royal family since. In 2007, at the U.S. Embassy in Washington, Shultz was named Honorary Commander of the Royal Victorian Order by Queen Elizabeth II. Often, these awards are given by committee, but this is one that the queen chooses herself in honor of those who have served the royal family. At both meetings, Shultz was impressed by the queen's amazing eye contact and sparkling smile, and reports that this "queen bee" is obviously beautiful both inside and out. For the queen's next visit to the city, Shultz suggests Tiffany & Company as the sponsor (bet you can guess the party favors), with Carole Channing on hand to sing "Diamonds Are a Girl's Best Friend."
In college, I spent a semester abroad at Oxford University. For three glorious months, I was immersed in British culture, with home stays in London and Cornwall. Afternoon tea was a family ritual there and in my own Assyrian family, and it remains so with me to this day. An afternoon without my Earl Grey is incomplete! While drinking my tea and reading Elizabeth the Queen: The Life of a Modern Monarch, Sally Bedell Smith's biography of the queen, I learned some interesting facts about this amazing ruler:
• She was born April 21, 1926, in the Year of the Tiger. The tiger is a natural leader who loves to be the center of attention. Those born in the Year of the Tiger are admired for their strength, vigor and nobility.
• She was not the heir apparent, but the heir presumptive, which means she would take the throne only if her parents (King George VI and Queen Elizabeth) did not have a son. She became the heir presumptive unexpectedly, when her father's brother gave up the throne for Wallis Simpson and became the Duke of Windsor.
• She met the Duke of Edinburgh (Prince Philip) at the age of 13. They were married when she was 21. He is her third cousin.
• When King George VI died in February 1952, Princess Elizabeth was only 25 years old and was on tour in Kenya.
• She became queen on February 6, 1952.
• Queen Elizabeth is the fortieth English monarch. Queen Victoria was the thirty-fifth.
• The queen's first prime minister was Winston Churchill. Her tenth, Tony Blair, was born in 1953, one month before her coronation.
• The queen never rides her beloved horses wearing a riding helmet; instead, she wears an Hermès silk scarf.
• Though she drives around her country estates and flies around the globe, the queen holds no driver's license or passport.
• Astonishingly, she has sat for more than 140 portraits, including the cover of Vanity Fair by Annie Leibovitz.
• During her reign, the queen has traveled to 129 countries during 256 official overseas visits. She has traveled to Canada twenty-three times and Australia fifteen.
• Over the course of her lifetime, the queen has owned more than thirty corgi dogs, beginning with Susie, who was a present for her eighteenth birthday. Current corgis include Emma, Holly, Linnet, Monty, and Willow.
• The queen owns the largest pink diamond in the world. It's 24 carats and set in a Cartier brooch.
• She speaks French and Latin.
• The queen has visited the sets of a number of soap operas, including the popular Coronation Street.
• Her Majesty loves horses. She was given her first pony at age five by her grandfather, King George V. She has more than 25 horses trained each racing season, and horses bred for the royal stables over the past two hundred years have won virtually every race in Great Britain.
• Queen Elizabeth received Pope John Paul II at Buckingham Palace in 1982, the first visit to England by a Catholic pope.
• On being introduced to the queen, the correct address is "Your Majesty," and subsequently "Ma'am."
• During her coronation address to the nation, Elizabeth stated: "I declare to you that my whole life, whether it be long or short, shall be devoted to your service."
• The queen stands only five feet, four inches, but is clearly larger than life!
http://37.60.249.202/~expertet/wp-content/uploads/about-lisa.jpg Lisa Mirza Grotts is a recognized etiquette expert, an on-air contributor, and the author of A Traveler's Passport to Etiquette. She is a former director of protocol for the city and county of San Francisco and the founder and CEO of The AML Group (Lisagrotts.com), certified etiquette and protocol consultants. Her clients range from Stanford Hospital to Cornell University and Levi Strauss. She has been quoted by Condé Nast Traveler, InStyle magazine, the Los Angeles Times, and the New York Times. To learn more about Lisa, follow her on Twitter.com/LisaGrotts and Facebook.com/LisaGrotts
Follow Lisa Mirza Grotts on Twitter.